New here? Join us in prayer! Click here to get novena reminders by email!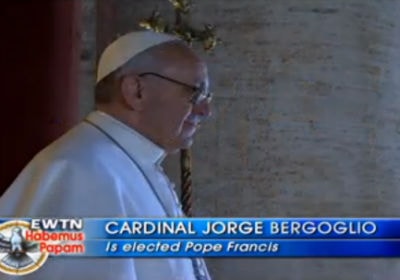 The College of Cardinals has elected a new Pope!
Formerly Cardinal Jorge Mario Bergoglio of Buenos Aires Argentina, our new Holy Father has taken the name Pope Francis!
He is a Jesuit – the first Jesuit to ever become Pope. He is also the first Pope from South America!
I have always felt close to St. Francis of Assisi. Please join me in praying the prayer of St. Francis for our new Pope!
Lord, make me an instrument of your peace,
Where there is hatred, let me sow love;
Where there is injury, pardon;
Where there is doubt, faith;
Where there is despair, hope;
Where there is darkness, light;
Where there is sadness, joy.
O Divine Master,
grant that I may not so much seek to be consoled, as to console;
to be understood, as to understand;
to be loved, as to love.
For it is in giving that we receive.
It is in pardoning that we are pardoned,
and it is in dying that we are born to Eternal Life.
Amen.
We were praying the novena for the conclave, but now that the conclave is over and we have a new Holy Father, we will continue praying specifically for Pope Francis.