New here? Join us in prayer! Click here to get novena reminders by email!
[This Novena Starts April 8th, Don't forget to pray each day *Click here to get Pope novena reminders by Email! * — No spam, just prayers…]
Will you join me in saying 'Thank You!' to our Holy Father in a special way on his birthday?
A Papal Prayer Present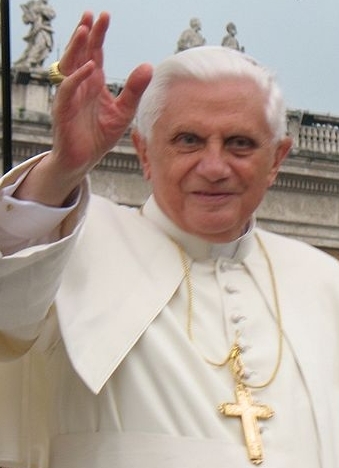 We are going to give 'Il Papa' a HUGE birthday present!
Pope Benedict XVI's birthday is coming up on April 16th. He's turning 84 years old and I'm sure he can use all the prayers he can get while shepherding the Universal Church!
We are going to give the Pope the gift of prayer. We are going to lift him up in prayer for nine days straight. That's right, we're going to pray a birthday novena for the Pope.
84 Years – 84,000 Prayers
Pope Benedict XVI is turning 84!  There are over 1 Billion Catholics in the world, so we should be able to get 84,000 of them to pray for the Pope, right? Right! But it's going to be hard…
So, all you  papists out there get your friends from church together, call your Bible study or your CCD classmates and get everyone to sign up for this Novena for Pope Benedict XVI!
Last year, on his birthday, Pope Benedict asked that… "In these days, I ask you to pray for the needs of the universal church" so it might receive renewed "holiness, unity and missionary zeal."
Last year he asked everyone to pray for us (the Church)!!  This year we are all going to pray for him! Read the text of the novena prayers here or sign up here to get reminders by email and then keep reading below!
INCENTIVE: If we reach 84,000 people praying the novena for the Pope, I will make sure the Pope personally knows of this gift of love for his birthday. I'm confident that faithful Catholics everywhere will step up and spread the word!
Let's Do This!
I don't know 84,000 people, but together I'm sure that we can reach this ambitious goal!  I can't do this without you, so please do all of the following that you can!
Invite your facebook friends to the facebook event click here.
If you have a blog or website click here to see how you can help.
Email all the faithful Catholics you know and ask them to join!
If you can do any or all of these things it would be a HUGE help. The novena starts on April 8th, so please start spreading the word about the Pope's birthday gift now!
I'm looking forward to praying together with you, your family, friends and thousands of others for our Holy Father!
God Bless You!