New here? Join us in prayer! Click here to get novena reminders by email!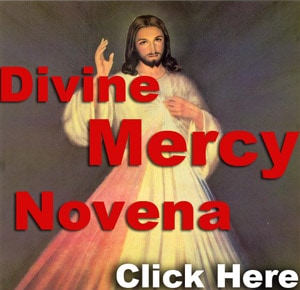 This year's Divine Mercy Novena is going to be even more meaningful than usual.
The beloved Pope John Paul II and Pope John XXIII will be canonized saints on Divine Mercy Sunday!
Our novena will lead right up to this historic event.
We hope you are as excited about this as we are!
In 2011, we prayed a special novena together with the intention for John Paul II's canonization.
We were amazed that he was beatified shortly after that.
In 2012, we prayed the same novena for the same intention: John Paul II's canonization.
So we've been praying for and looking forward to his canonization for a long time.
Which novena did we pray for John Paul II? The Divine Mercy Novena.
Which novena are we about to pray? The Divine Mercy Novena!
When will John Paul II be canonized? At the end of the Divine Mercy Novena, on Divine Mercy Sunday!
A Gift to these Saints
We are also on the cusp of surpassing 100,000 subscribers. Wouldn't that be a great gift to our soon-to-be canonized saints to have 100,000 people praying this novena leading up to their canonizations?
Will you helps us spread the word?
Share the novena!
Click here to share on Facebook.
Click here to share on Google+