New here? Join us in prayer! Click here to get novena reminders by email!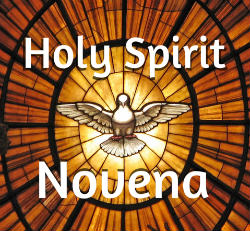 We're excited to announce that the next novena we're praying is the original novena!
Novenas are an ancient tradition that goes back to the days of the Apostles.

Jesus told His disciples to pray together after His ascension into heaven, so they went to an upper room along with the Blessed Virgin Mary, (Acts 1:14) and joined constantly in prayer for nine days.

These nine days of constant prayer by the Apostles at the direction of Jesus led up to Pentecost. This is when the Holy Spirit descended upon the disciples as "tongues of fire" (Acts 2:1-4). This pattern of 9 days of prayer is the basis of the novenas we pray today.
Thus, the novena is an imitation of the Lord's command to the Apostles when they prayed for 9 days in anticipation of the coming of the Holy Spirit.So maybe you can guess by now that the next novena we're praying is The Pentecost Novena!
The Holy Spirit plays a BIG part in our lives.
So, as we pray, ask the Holy Spirit for something concrete and measurable. 

We will start praying on May 31st!

You can sign up for this novena HERE and you can share your prayer intentions for this novena below.
 
We're looking forward to praying with you and for you! 
 
God bless you!
Annie & John-Paul – PrayMoreNovenas.com

P.S. The best way to initiate a better and deeper prayer life is through the giver of life Himself, the Holy Spirit. To do that, check out our e-book:  

9 Days to a Deeper Prayer Life with the Holy Spirit