New here? Join us in prayer! Click here to get novena reminders by email!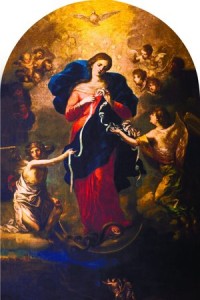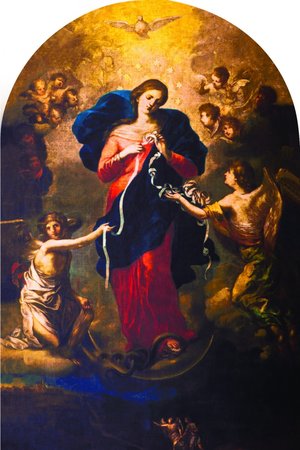 We hope that each novena we pray together is one more prayer that will bring you closer to Jesus, and the next novena should do just that!
The next novena we will pray is the Mary, Undoer of Knots Novena!
Whenever we grow closer to Jesus' mother, our mother, we grow closer to Jesus — because Mary always brings us to Jesus.
The devotion to Mary, Undoer of Knots comes from the second century. Saint Irenaeus explained it, saying, "The knot of Eve's disobedience was untied by the obedience of Mary; what the virgin Eve bound by her unbelief, the Virgin Mary loosened by her faith."
Basically, the Blessed Virgin Mary can undo the knots in our lives!
Whatever has separated us from God and hardened our hearts – be it violence, pride, the absence of peace, anguish, despair, depression, sickness or discord –Mary has such compassion for us and prays for us to her son, Jesus Christ.
We will begin praying on April 22nd — that's less than one week away! So be sure to share this novena with all of your friends and family before then.
They can sign up to pray with us HERE.
We're looking forward to praying with you and for you!