New here? Join us in prayer! Click here to get novena reminders by email!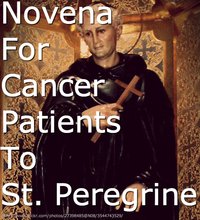 At some point in our lives, each of us will be affected by cancer or another terminal disease. Whether it affects us directly or indirectly, it can cause great suffering in our lives.
So many of the prayer requests we receive are for those suffering with cancer. So the next novena we will pray is the St. Peregrine Novena for Cancer Patients, starting on Monday, January 19th.
St. Peregrine is the patron saint of cancer patients. He had a cancerous ulcer on his leg which was miraculously cured when it was thought to be beyond saving.
So we will pray this novena for all cancer patients, all those suffering from life-threatening illnesses, for their families & friends, as well as for physicians and scientists working to discover a cure.
We hope you will join us in praying this novena, and that you will share it with all of your friends and family.
They can sign up to pray with us here:
http://p.praymorenovenas.com/st-peregrine-novena/
St. Peregrine's feast day is May 1st. But as with every novena, you can pray it any time of the year — and we will start this one on January 19th.
We're looking forward to praying with you and for you!