New here? Join us in prayer! Click here to get novena reminders by email!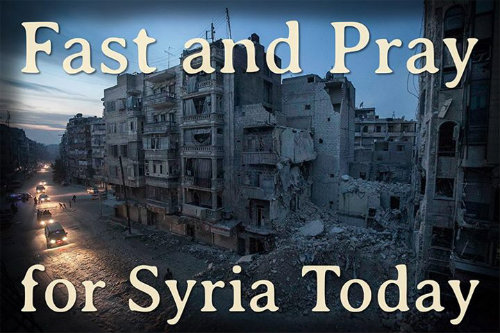 Will you join us in praying with the Holy Father for peace in Syria and the Middle East?
Pope Francis has asked the Church to pray and fast today for peace in Syria. Annie and I are participating in this day of prayer and we would like to ask you to join us in this as well!
My Brother-in-Law, Tom, posted this helpful comment on facebook regarding fasting and prayer for today:
"For the two days of the year when the Church requires fasting of Catholics (Ash Wednesday and Good Friday), the parameters of the fast are given as: "When fasting, a person is permitted to eat one full meal. Two smaller meals may also be taken, but not to equal a full meal." Catholics may, of course, eat less, but this is considered the minimum required.
"The fasting for Syria on September 7 is not obligatory and so can follow the guidelines of each Catholic's conscience, ranging from a "black fast" (no food or drink) to a fast of abstinence from one or more items (e.g., no meat, or no dessert, etc.). If one chooses to fast, however, it should be a sacrifice which includes some degree of hunger and self-restraint.
"In addition, prayer should be included as part of the fast. Certainly, the prayer for peace in Syria from the USCCB's website would be appropriate. Other suggestions include praying with Scripture, praying the Liturgy of the Hours, praying the rosary, spontaneous prayer, quiet or contemplative prayer, meditation, etc."
Here is the prayer from the USCCB website for the people of Syria:
Almighty eternal God, source of all compassion, the promise of your mercy and saving help fills our hearts with hope. Hear the cries of the people of Syria; bring healing to those suffering from the violence, and comfort to those mourning the dead. Empower and encourage Syria's neighbors in their care and welcome for refugees. Convert the hearts of those who have taken up arms, and strengthen the resolve of those committed to peace.

O God of hope and Father of mercy, your Holy Spirit inspires us to look beyond ourselves and our own needs. Inspire leaders to choose peace over violence and to seek reconciliation with enemies. Inspire the Church around the world with compassion for the people of Syria, and fill us with hope for a future of peace built on justice for all. We ask this through Jesus Christ, Prince of Peace and Light of the World, who lives and reigns for ever and ever.

Amen.

Petition:
For the people of Syria, that God may strengthen the resolve of leaders to end the fighting and choose a future of peace.

We pray to the Lord…
We look forward to praying in solidarity with you, the whole Church and all those who are suffering from war.