New here? Join us in prayer! Click here to get novena reminders by email!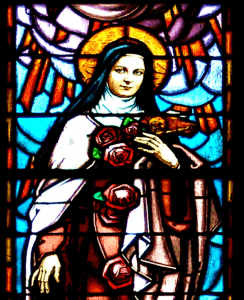 We're excited to announce that the next novena is the Novena to St. Therese of Lisieux!
St. Therese, also known as the Little Flower, is known for devoting herself to a vocation of love.
Although she was extremely sensitive as a child, she had a conversion on Christmas Eve when she was 14, which transformed her and led her to love.
She entered a Carmelite Convent when she was very young, and she suffered through much darkness, doubt, and depression. Yet through it all, she remained faithful to God, rooted in His merciful love. She died at a very young age, 24, after a long struggle with tuberculosis.
St. Therese's life was very simple and hidden away in prayer, but the world came to know more about her and her prayer life through her autobiography, "Story of a Soul." She wrote, "What matters in life is not great deeds, but great love." She described her life as a little way of spiritual childhood. And so we look to her as a guide on how to better love God and our neighbor.
St. Therese said she would spend her time in Heaven doing good on earth, and that she would, "let fall a shower of roses." That's one way that many people have experienced her intercession — by seeing roses while praying to her! So look out for roses while we pray this novena!
We will start praying on Monday, September 22nd.
Your friends and family can sign up HERE to join us in the Novena to St. Therese!