New here? Join us in prayer! Click here to get novena reminders by email!
The next novena we will pray is to a very persistent intercessor!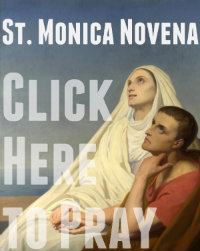 In fact, this Saint prayed for her son's conversion for more than 15 years. She wept and prayed constantly with faith and hope in God.
What was the result of all those years of prayer?
One of the great saints in the history of the Church!
We will be praying the Novena to St. Monica!
St. Monica was St. Augustine's mother and is a powerful advocate.She is the patron saint of:
Alcoholics
Wives
Mothers
Widows
Difficult Marriages
Married women
Victims of unfaithfulness (adultery)
Victims of abuse
The novena begins on August 18th!
Be sure to share this powerful novena with your friends & family! They can sign up HERE.
We're looking forward to praying with you and for you!