New here? Join us in prayer! Click here to get novena reminders by email!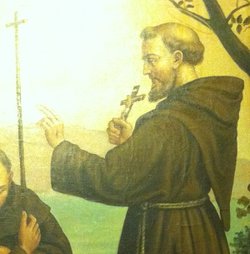 We are excited to announce the next novena we will pray is the Novena to St. Francis of Assisi!
Did you know that St. Francis of Assisi inspired the Holy Father to take the name Francis? He shared it with the world shortly after being elected. Pope Francis said his friend, Brazilian Cardinal Claudio Hummes embraced him after his election and told him not to forget about the poor.
Pope Francis explained, "And those words came to me: The poor. Then right away, thinking of the poor, I thought of Francis of Assisi. Then I thought of all the wars as the votes were being counted… Francis is the man of peace. That is how the name came into my heart: Francis of Assisi…. For me, he is the man of poverty, the man of peace, the man who loves and protects creation."
Saint Francis of Assisi is one of the most popular saints among all Christians. He is known for his simplicity, poverty and for the great work of rebuilding the Catholic Church — a direct request he heard from Christ.
As it has been nearly a year since Pope Francis was elected, we will pray this novena for the intercession of St. Francis for our church, for our pope, and for all the things that St. Francis' namesake represents.
We will begin praying on February 11th — that's just one week away! So be sure to share this novena with all of your friends and family before then.
They can sign up to pray with us HERE.
We're praying for you!
God bless you!
John-Paul & Annie