New here? Join us in prayer! Click here to get novena reminders by email!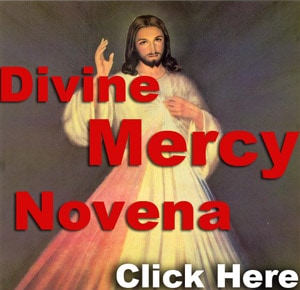 Bl. Pope John Paul II had a strong love for Divine Mercy — something which he shared in common with Saint Faustina, who wrote about the message in her diaries.
He was the first to consider, as Archbishop of Krakow, bringing St. Faustina's name to the Congregation for the Causes of Saints for consideration for her beatification.
One theme of John Paul II's pontificate was, "Where, if not in the Divine Mercy, can the world find refuge and the light of hope?" (Val Conlon).
Pope John Paul II's second encyclical, "Dives in Misericordia," (Rich in Mercy), along with other homilies & writings, describes Divine Mercy as the answer to the world's problems.
John Paul II said that St. Faustina brought the Easter message of the merciful Christ closer to the whole world.
And a year after he published the encyclical, Pope John Paul II traveled to the Shrine of Merciful Love in Italy, where he spoke about the message of Divine Mercy, "Right from the beginning of my ministry… I considered this message my special task. Providence has assigned it to me…"
Pope John Paul II beatified Saint Maria Faustina Kowalska on Divine Mercy Sunday in 1993, and he canonized her on Divine Mercy Sunday in 2000.
That same day, Pope John Paul II established Divine Mercy as a feast day (the official decree came a few days later).
He recalled after the canonization of St. Faustina – the day he declared Divine Mercy as a feast day, that it was the happiest day of his life.
Just five years after that, he died on the vigil of that feast. His last written words, which he wrote to be read on Divine Mercy Sunday, ended with, "Jesus, I trust in You, have mercy on us and on the whole world."
And in just a few days on this Divine Mercy Sunday, Pope John Paul II will become a saint himself.
On his deathbed, John Paul II was entrusting himself to the Divine Mercy. And in his life, he advocated for the world to appeal to the mercy of God continuously.
"As people of this restless time of ours, wavering between the emptiness of self-exaltation and the humiliation of despair, we have a greater need than ever for a regenerating experience of mercy. We should learn to say repeatedly to God with the faith and simplicity of children: "Great is our sin, but even greater is your love!" Opening ourselves to mercy, we must not be content with mediocrity and sin, but on the contrary, we must be revived by resolutions to lead a new life." – John Paul II, Regina Caeli, April 10, 1994
So please join us in praying the Divine Mercy Novena leading up to this holy man's canonization on Divine Mercy Sunday!