New here? Join us in prayer! Click here to get novena reminders by email!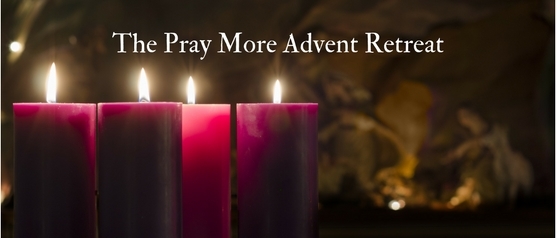 Advent will be here before you know it!
We hope you will join us for an online, self-paced Advent retreat!
Advent is similar to Lent, and some even call it, the "Little Lent."
It's a season when we are called to practice self-examination and to prepare our hearts to receive the Lord at Christmas.
It's especially a time when we should spend more time in prayer, peacefully anticipating and preparing for Jesus Christ's coming.
We want to help you do that!
That's why we've been working on a project to strengthen your faith and hope this Advent.
It's called the Pray More Retreat!
Here's what you get when you register for the online retreat:
+ We have four speakers
+ There will be 13 video & audio presentations
+ Each of those presentations will come with a transcript and a study guide
The retreat is self-paced which means that you can participate wherever you are and whenever you have the time.
The Pray More Retreat will be just like an in-person retreat that you can experience at home — anywhere, anytime.
You'll hear from four speakers, each of them giving a few presentations that will help you be more dedicated to prayer in your everyday life this Advent — and onward into the new Liturgical year :)
You'll also receive a transcript of their talks along with reflective study guides for each.
You can register for the retreat here:
That's also where you can see who our speakers are and what their talks are about.
All of the materials will be released on the first day of Advent, Sunday, December 3rd, and we hope they will help you to slow down during this Advent season and truly prepare to celebrate Jesus Christ's coming at Christmas.
God bless you!
Annie & John-Paul Deddens
P.S. Here's what someone had to say about one of our last Pray More Retreats:
"I loved it. I learned a lot, and I felt closer to the Lord."