New here? Join us in prayer! Click here to get novena reminders by email!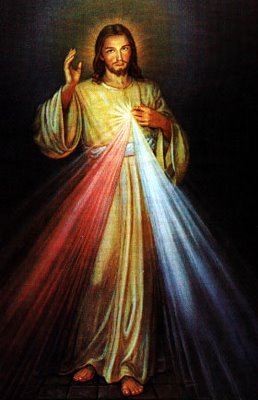 [This Novena Starts April 22nd, don't forget to pray each day!  *Click here to get Divine Mercy Novena reminders by Email! *]
This Friday is the beginning of both the Easter Triduum and the Divine Mercy Novena!
I hope you're excited because I am! The message of Divine Mercy is a beautiful gift given to us by Christ through St. Faustina. In it's most basic form, it is an exhortation for us to trust in Jesus and in His mercy.
Jesus asked St. Faustina to spread this message particularly through the Divine Mercy Image to the left, the Chaplet of Divine Mercy and the Divine Mercy Novena.
We will obviously focus on the Novena and we will be praying the prayers that were given to St. Faustina by Christ through the apparition.
We will pray these prayers not only with the thousands of others who make up the PrayMoreNovenas Community but also with a multitude of people throughout the world. Let's join together in prayer asking god for His mercy, asking for help in being merciful ourselves and trusting completely in God's mercy! Click here the Divine Mercy Novena Prayers.
JPII We Love You!
John Paul II is going to be beatified on Divine Mercy Sunday! So, at the request  Lisa, one  of our community members, we are going to make the cause for his canonization a special intention of this novena.
Great idea Lisa! The Divine Mercy was very close to John Paul II's heart. Let's pray together for Mercy and for our beloved John Paul II!
Join the Community!
If you're not already part of the PrayMoreNovenas Community, and you want to pray this upcoming novena with thousands of other faithful Catholics but haven't signed up yet… Sign up here and you will be praying with us in no time!

Help Promote the Divine Mercy Novena!
Do you want to join St. Faustina in promoting a devotion to the Divine Mercy of Jesus? Sign up to get novena reminders above and then do these three quick steps to get your friends and family to join in praying this beautiful novena:
Email – Click here to get a sample email to send to your friends and family to invite them to pray with us.
Facebook/Twitter – Share this novena on facebook or twitter.
Blog – Click here to get a sample post to put on your blog or website.
Thanks and God Bless you!