New here? Join us in prayer! Click here to get novena reminders by email!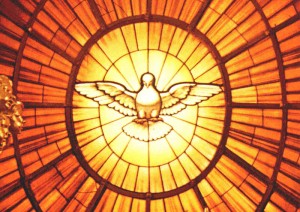 We hope and pray that this novena to the Holy Spirit for Pentecost has been a blessing to you!
If your prayers have been answered and you'd like to thank God and to share it with others please post below.
Here's an answered prayer that was sent to us by email:
…I especially pray for my daughter (who has left the church) and for my 16 year old grandson (who has not been baptized) for their conversion. They've had many struggles, and their life has not been easy.They do have faith but it's not strong. Lately my grandson has been asking questions which has lead to lengthy conversations.

I have been praying the Pentecost Novena, and as it was suggested, to ask for something concrete, I prayed that my daughter and grandson would tell me that they were going to go to church on Sunday. This morning, within 1 hour of praying day two of the novena, my daughter called and told me that my grandson was going to go to church on Sunday.

I have joy! May it always shine to others.

Thank you Holy Trinity! Praise, Glory, and Love!

Thank you John-Paul and Annie for your service to the Lord and for Pray More Novenas.

Blessings, MG
Please post your answered prayer below.