New here? Join us in prayer! Click here to get novena reminders by email!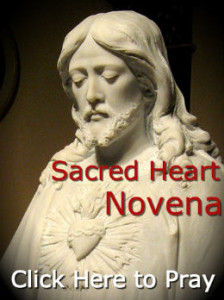 Thank you for joining us in praying the Sacred Heart of Jesus Novena!
We hope it was fruitful for you!
If any of your prayers were answered while praying this novena with us, please share that below — all for the glory of God!
It is always inspiring to hear bout answered prayers & how God is working through these novenas.
It is such an incredible reminder of the power of prayer — that God is listening and He is working in our lives!
You can read through hundreds of answered prayers from past novenas here:
Answered Prayers from the Pentecost Novena – 2015
Answered Prayers from the Mary, Undoer of Knots Novena – 2015
Answered Prayers from the Divine Mercy Novena – 2015
However, for every answered prayer we share, we know there are at least as many unanswered prayers — if not more; and we know that unanswered prayers can be discouraging.
But we don't want you to lose hope, or to stop praying.
In fact, many of the Saints that we ask for intercession are great examples that we should persist in our prayers, and keep our faith strong. St. Monica, for example, prayed for nearly two decades before her prayers were completely answered.
Now, if you have had some prayers go seemingly unanswered (you're not alone), and you've been asking yourself, "Should I just stop praying?" — here's a post I wrote that may be able to help:
Thank you for joining us in prayer!
We are praying for you.