New here? Join us in prayer! Click here to get novena reminders by email!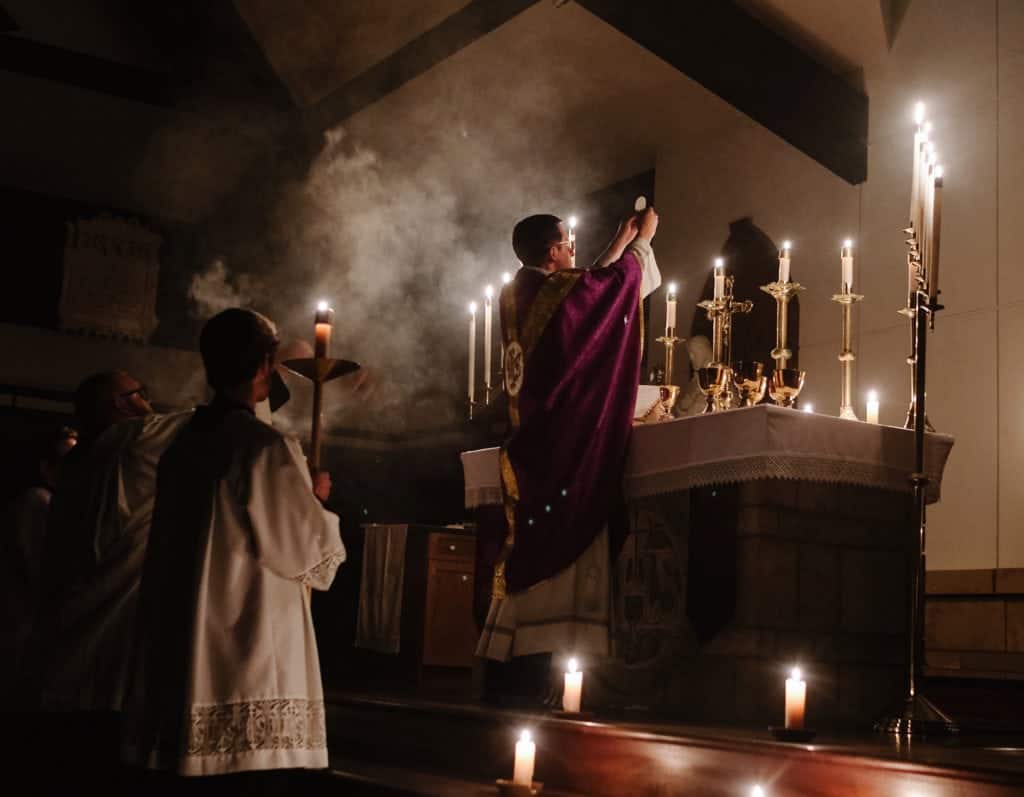 If churches around you have closed or canceled public Masses and if you are spending more time at home we wanted to share a few online options with you so that you can still watch Mass — and have a fruitful Lent.
Here are a few options for you:
+ You can watch Mass on EWTN's live feed here. It looks like they have Mass at 8 am EST and 12 pm EST on Sunday. Daily Mass throughout the rest of the week is at the same time. Here's their schedule. For Mass in ASL or with an Interpreter, please look at the very bottom of this post.
+ You can also make an act of Spiritual Communion by saying a prayer like this one: "My Jesus, I believe that You are present in the Most Holy Sacrament. I love You above all things, and I desire to receive You into my soul. Since I cannot at this moment receive You sacramentally, come at least spiritually into my heart. I embrace You as if You were already there and unite myself wholly to You. Never permit me to be separated from You. Amen."
+ You can find a live broadcast of perpetual Adoration here.
+ And you can watch, listen or read through the video presentations of our online Lenten Retreat here.
Here are some of the presentations that might be especially helpful right now:
St. Joseph – Protector and Father
Overcoming Lies of the Devil, and
The Faith and Doubt of St. Thomas – a guided-meditation.
+ Finally you can join me (Annie) in praying the Rosary here.
We are praying for you and your intentions during this time. St. Joseph, pray for us!
God bless you!
John-Paul & Annie – PrayMoreNovenas.com
P.S. Here are some resources for those of you who use ASL:
UR ASL Daily Mass Schedule (during the week of March 23 – March 27)
Monday, 3-23-2020 – Fr. Shawn Carey – Archdiocese of Boston
https://www.youtube.com/user/DeafApostolateBoston
10:30am ET, 9:30am CT, 8:30am MT, 7:30am PT
Tuesday, 3-24-2020 – Fr. Mike Depcik – Archdiocese of Detroit
www.facebook.com/deafmass
10:30am ET, 9:30am CT, 8:30am MT, 7:30am PT
Wednesday, 3-25-2020 – Fr. Matthew Hysell, Ottawa , Canada
https://www.facebook.com/ICDACanadianSection/
8:30pm ET, 7:30pm CT, 6:30pm MT, 5:30 PT
Thursday – 3-26-2020 – Fr. Paul Zirimenya – Archdiocese of San Francisco
www.facebook.com/stbenedictparish
12:00 noon PT, 1:00 pm MT, 2:00 CT, 3:00 ET
Friday – 3-27-2020 – Fr. Christopher Klusman – Archdiocese of Milwaukee
8:30 PT, 9:30 MT, 10:30am CT, 11:30am ET
https://www.youtube.com/channel/UCFehFLYZnpdfkh5-0rmZPoQ (for now)
Friday – 3:00pm ET, 2:00 CT, 1:00 MT, 12:00noon PT
Divine Mercy Chaplet – Kate Slosar/Sr. Kathleen Schipani
www.facebook.com/icdaus
Friday – Fr. Mike Depcik – Stations of the Cross and Adoration TBA
www.facebook.com/deafmass