New here? Join us in prayer! Click here to get novena reminders by email!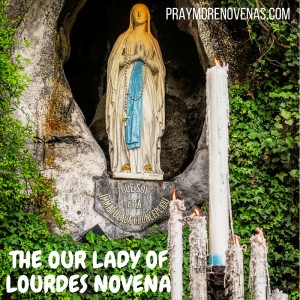 In 1858, the Blessed Virgin Mary appeared to a young peasant girl named Bernadette in Lourdes, France.
Through a set of private revelations, Our Lady revealed herself as, "the Immaculate Conception."
Through Bernadette (St. Bernadette), Mary revitalized the faith of millions, and continues to do so.
If you couldn't tell, the next novena we will pray is the Novena to Our Lady of Lourdes! ;)
We will start praying on February 2nd!
The devotion to Our Lady of Lourdes is most well-known for the miraculous cures and healing of illness & disease.
So one of the intentions we will pray for throughout this novena is for healing. In one way or another, we are all in need of it, especially before we reach Heaven — whether that healing is one of our sins, or healing of our infirmities.
We will also pray for the conversion of sinners, including ourselves. This was an important intention in Bernadette's life, and she offered up much of her physical suffering for this cause.
And lastly, we will also pray for the faith of those who have fallen away from the Church, for those who are lukewarm in their faith, and for greater faith to be practiced within all families.
We hope you will join us in praying this novena.
You can sign up to pray with us here:
The feast of Our Lady of Lourdes is on February 11th, which was also proclaimed as World Day of the Sick by St. John Paul II.
We'll start praying on February 2nd. That's one week away, so be sure to get the word out!
We're looking forward to praying with you and for you!